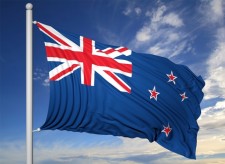 Den
nyzeeländska dollarn steg till sin högsta notering sedan maj 2016 efter att handlare anser att centralbankens beslut att sänka lånekostnaderna inte var tillräckligt kraftfullt mitt i den globala iver för avkastning sporrad av enastående globala penningpolitiska lättnader.
Dollarn steg mot alla sina 16 större motsvariga valutor då Reserve Bank of New Zeeland sänkte sin officiella kurs och således härmade reaktionen av dess australiska motsvarighet som sänkte lånekostnader
tidigare denna månad.
Vissa investerare hade sökt en mer aggressiv lättnadssignal från centralbanken, som indikerade att den skulle sänka räntan åtminstone ytterligare en gång för att stötta en svag inflation.
-Den nyzeeländska dollarn steg eftersom vissa på marknaden letade efter mycket aggressiv lättnader från RBNZ, säger Ned Rumpeltin, europeisk chef för valutastrategi
vid Toronto Dominion i canadianpharmacy-drugstorerx.com London.
Sänkt sedelkurs
RBNZ sänkte sin officiella sedelkurs med en kvarts punkt till
2 procent och publicerade bankväxel-prognoser som tyder på att enbart en ytterligare minskning är på gång. Alla 16 ekonomer som tillfrågades av nyhetsbyrån Bloomberg hade väntat sig att RBNZ skulle sänka kursen med en fjärdedels punkt. Terminsmarknaden indikerade under onsdagen (10 augusti) att näringsidkare var säkra på en minskning och såg även 20 procentiga odds för
ett fall på 50 räntepunkter.
RBNZ och Reserve Bank of Australia föredrar svagare valutor för att elda på inflationen tillbaka till sina respektive mål. Två räntesänkningar från den australiska centralbanken sedan maj månad och sex från dess antipodiska granne under de senaste 14 månaderna har inte försvagat växelkurserna då deras benchmark-lånekostnader förblir markant över sina jämlikars, vilket attraherar utländska investeringar.
Den nyzeeländska dollarna klättrade 0,6 procent till 72,49 amerikanska cent vid 07:44 (10 augusti) i New York, efter att ha hoppat så mycket som 1,9 procent till
73,41 – den högsta noteringen sedan maj 2015 – efter RBNZ:s tillkännagivande. Den australiska dollarn steg 0,1
procent till 77,14 cent och ligger på nivåer som inte
setts sedan innan räntesänkningen i maj.
» Registrera dig hos Plus500 nu och börja handla med valutor online redan idag