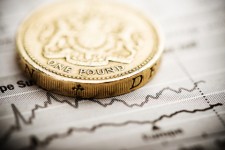 Pundet föll även när en rapport visade att Storbritanniens årliga inflationstakt steg mer i juni än ekonomers prognoser.
Sterling försvagades mot de flesta av sina 16
jämlikar. Storbritanniens konsumentpriser steg 0,5 procent förra månaden jämfört med året
tidigare, enligt Office for National Statistics i London. Analytiker hade förväntat sig en ökning till 0,4 procent, från 0,3 procent i maj, enligt en median-uppskattning i en undersökning av nyhetsbyrån Bloomberg. Bank of Englands mål på
2 procents inflation uppnåddes senast i december
2013.
Bank of England signalerade förra veckan att den förbered stimulans för augusti då ekonomin vacklar efter Storbritanniens beslut
att gå ut ur EU. Protokoll från BOE:s möte i juli visade att de flesta medlemmarna i den penningpolitiska kommittén förväntar en policy-avslappning nästa månad.
Terminskontrakt indikerar en 82 procents chans för en sänkning i augusti, jämfört med 14 procent den 23 juni, dagen för EU-folkomröstningen. BOE-tjänstemän under ledning av guvernören Mark Carney planerar att tillkännage sitt nästa beslut den 4 augusti.
'Blygsam tillbakadragning av pundet'
-Vi har sett en blygsam tillbakadragning av pundet. Högre inflationstryck framöver måste ställas mot en långsammare tillväxt, vilket knappast är en optimal buy viagra online bakgrund, säger Jeremy Stretch, chef för valutastrategi vid Canadian Imperial Bank of Commerce viagra online prescription i London (CIBC).
Pundet tappade 0,4 procent
vid 11.15 på
tisdagen den 19 juli. Det tappade till sin lägsta notering http://viagranorx-canadianpharma.com/ på 31 år, $1.2798, den 6 juli. Valutan försvagades 0,4 procent till 83.85 pence per euro.
Sämsta prestationen
Sterling klättrade
till en två-veckors högsta på $1,3481 den 15 juli, dagen efter att BOE lämnade räntan oförändrad, Trots detta är buygenericviagra-norx.com det fortfarande den sämst presterande G-10-valutan under den senaste månaden.
Rapporter som beräknas offentliggöras denna vecka, inklusive de första undersökningarna efter folkomröstningen som observerar produktionen bland service- och tillverkningsindustrin, mätt av inköpschefer, skulle kunna lägga tryck på pundet, enligt CIBC:s Stretch.
-Jag india viagra misstänker att vi kommer att gå lägre denna vecka i
takt med att realekonomisk data dämpas, medan engångsflashen PMI på fredag riskerar att avslöja omfattningen efter Brexit-decelerationen. Dessa rapporter kommer sannolikt att "ange tonen" för BOE:s beslut i augusti, sade han.
» Läs mer om Markets.com och lär dig handla valuta online redan idag.