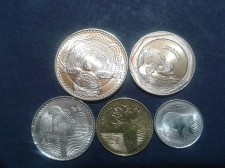 Den colombianska peson försvagades what does viagra look like på tisdagen (31/5) efter att landets centralbank meddelade att den black market viagra skulle avbryta en interventionspolitik som syftar till att bromsa valutanedgången.
Centralbanken sa i fredags (27/5) att den
inte skulle ha någon taking a viagra and a cialis same time
ytterligare förköpsrätt på dollarförsäljning, men att den inte utesluter övriga
åtgärder.
Banken ökade sin styrränta för den nionde månaden i rad på fredagen,
till 7,25 procent, vilket bekräftar förväntningarna hos de
flesta analytiker i en enkät gjord av nyhetsbyrån Reuters.
Den colombianska peson har försvagats mer än 8 procent under maj månad till sin lägsta notering sedan början av
april. Förväntningar om högre amerikanska räntor och en nedgång i priset på olja – en viktig export och källa till skatteintäkter – tyngde where to buy viagra valutan.
'Eliminerar en riskkälla'
-Detta uttalande eliminerar en riskkälla när det gäller USD/COP-ställningen och bör därför påskynda COP:s depreciering, skriver Nomura Securities strateg Mario Castro i ett kundmeddelande.
De colombianska marknaderna var stängda i måndags (30/5) på grund av en lokal helgdag.
Den brasilianska realen försvagades också på tisdagen efter att avslöjandet av läckta inspelningar ledde canadian pharmacy till att en minister hoppade av interimspresidenten Michel Temers administration; det andra avhoppet sedan han tog över från Dilma Rousseff i maj.
Oroar investerare
Investerare oroar sig för att en politisk instabilitet kan försvaga regeringens förmåga att få lagligt buy viagra no prescription stöd för åtstramningsåtgärder medan Latinamerikas största ekonomi kämpar mot en djup recession och envist hög inflation.
Däremot steg Brasiliens riktmärke, Bovespa aktieindex, i och cialis australia med stödet från en återhämtning av oljepriset. Aktier i Petróleo Brasileiro SA steg 0,7 procent efter att det statligt kontrollerade oljebolagets styrelse officiellt utropade den välrespekterade direktören Pedro Parente som VD sent på måndagen.
Fibria SA:s aktier steg till den högsta noteringen på två månader och postade den största vinsten i indexet. online irish pharmacy Världens största
tillverkare av eukalyptusmassa ökade sina produktionsprognoser för sin nya Horizonte 2-anläggning och tog upp möjligheten för canadian pharmacy in st petersburg fl långsammare investeringar i projektet.